Hotstar Premium Cookies Hey Readers in this article on the gadgetfixitbd I am going to share Hotstar cookies with all of you. Particularly you will get Hotstar VIP cookies and Hotstar Premium cookies in this article.
If you are searching for Hotstar Cookies, Hotstar Premium cookies, Free Hotstar VIP account then you are at the right place here you will get Hotstar VIP account and Hotstar premium account cookies for free.
About Hotstar Cookies and Premium Accounts
Nowadays everyone talking about OTT platforms because after this pandemic situation everyone is more comfortable watching shows at home on their TV, PC, and mobile by using OTT platforms like Hotstar, Prime Videos, Netflix, and many others.
In India the most popular OTT platform is Hotstar and it's because of IPL. You can watch IPL on Hotstar along with movies and web shows. But you watch IPL and movies on Hotstar you need a subscription of Hotstar and to help you in that you can watch IPL, Movies, and Web Shows on Hotstar for free by using Hotstar cookies.
But wait some of you may be directly landed on this page or open it to know what is this Hotstar and Hotstar cookies So, first of all I will tell you about Hotstar and after that tell you about Hotstar cookies because before using anything you should know about those things.
What Is Hotstar?
Hotstar is an OTT platform where you can watch Movies, Web Shows, and IPL in multiple languages. Along with that, you can watch special web shows like The Falcon and The Winter Soldier, Loki, Wanda Vision, and many more amazing shows and movies.
Along with all of these, you will get movies and web shows of Marvel, PIXAR, Disney, Star Wars, and National Geographic.
What Is Hotstar Cookies?
So before using Hotstar cookies you should know about those and how it works.
Let me tell you about these,
It is a .txt file that has some code that helps you to login into the website without entering the login credentials again and again. This file is made by your browser for a better user experience.
Now lets how it works, When you login into any website your browser saves your login credentials in a cookies file and whenever you open that website again you don't need to enter your login details again and again to access that website.
100% Working Hotstar Premium Cookies
Here are the working cookies for Hotstar. We update these cookies daily. If you found these cookies are not working just let us know on Instagram or Telegram will update the cookies.
Note: Hotstar PIN is 2693
Here are the working cookies of Hotstar Premium.
Note: If cookies are not working tell us on telegram or Instagram (@downaio) we will provide new working cookies.
Password for cookies = downaio.com
Use the above password to access Hotstar premium cookies for free
Note: Don't log out after inserting cookies into your browser. If you did you can't use the same cookies to re-log in.
Cookies 1
Don't forget to join us on Telegram or Instagram for futures updates of the cookies.
How To Use Hotstar Premium Cookies To Access Hotstar For Free
Now you get Hotstar Premium account cookies now you may have a question in your mind that how to use Hotstar premium cookies. Also if you are search for How to use hotstar cookies, How to access Hotstar premium with cookies, How to insert hotstar cookies in chrome browser than just follow below steps.
It's very easy to use Hotstar cookies to access Hotstar premium account. You just need working Hotstar cookies that I shared above and after that follow below steps.
So now we need to do two simple steps first is we need to install cookies editor extension to your browser.
How to install Cookies editor extension to web browser
Below I am going to add screenshots of chrome browser but If you are using any other browser no need to worry just follow same steps in your browser.
Go to browser web store (I am using Chrome web browser if you are using another browser just open your browser's web store). In the web store search for "cookie editor" and choose the extension shown in the below image.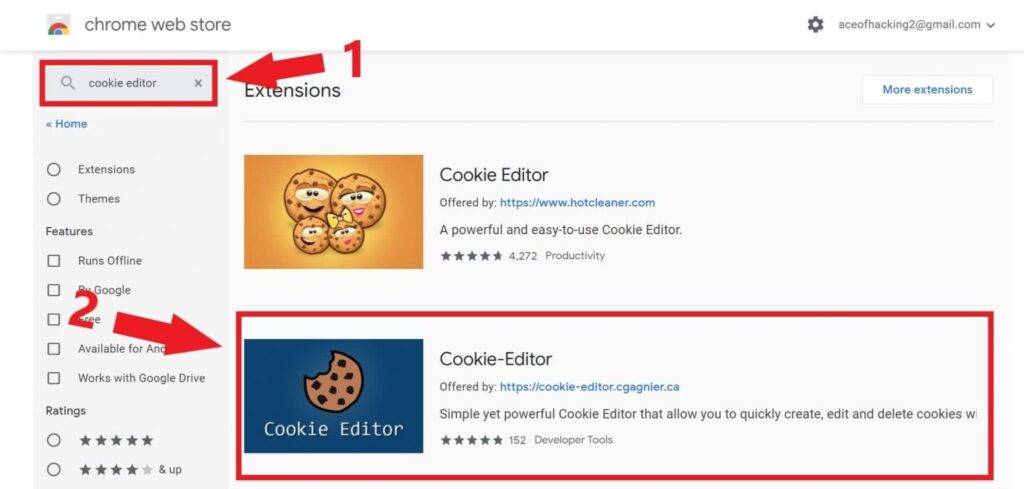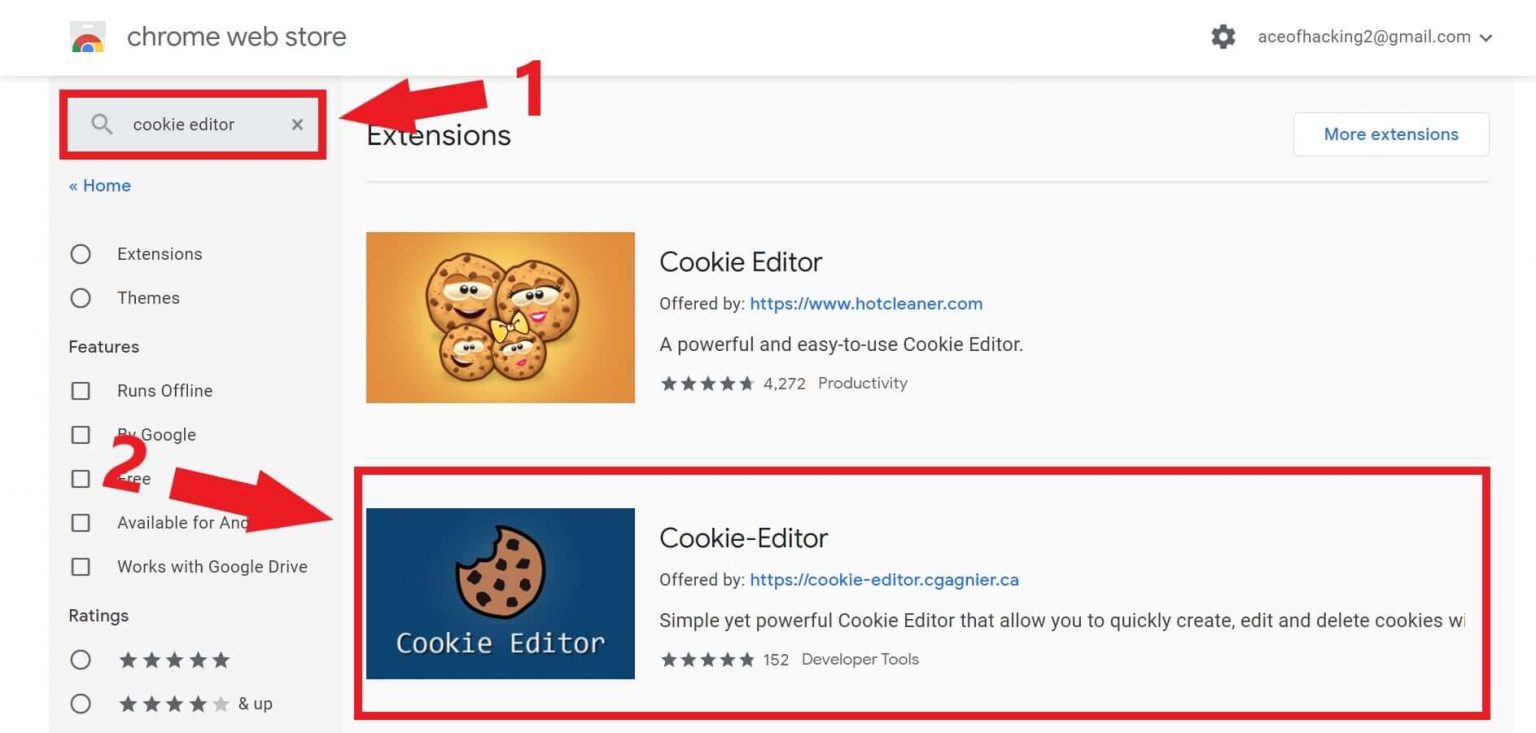 Now click on add to chrome button (Add to your browser name button) that available just next to the cookie editor.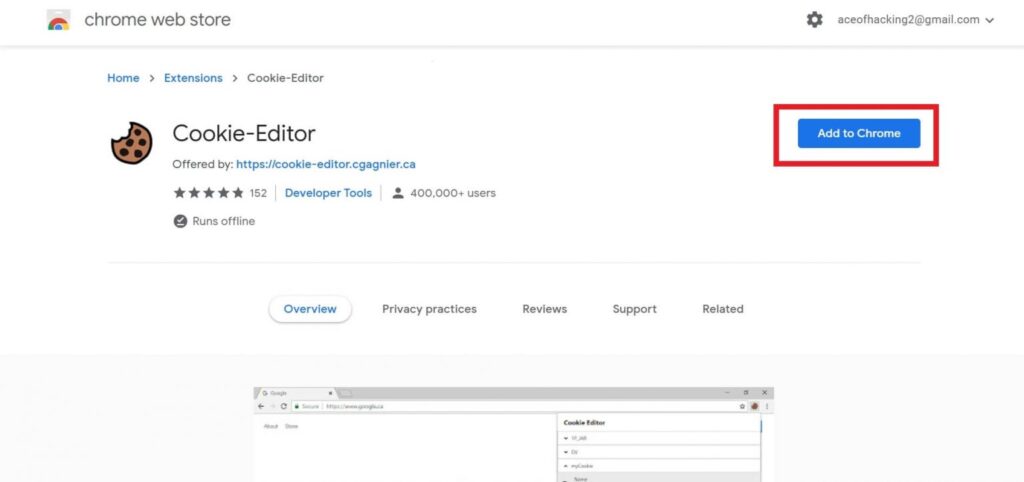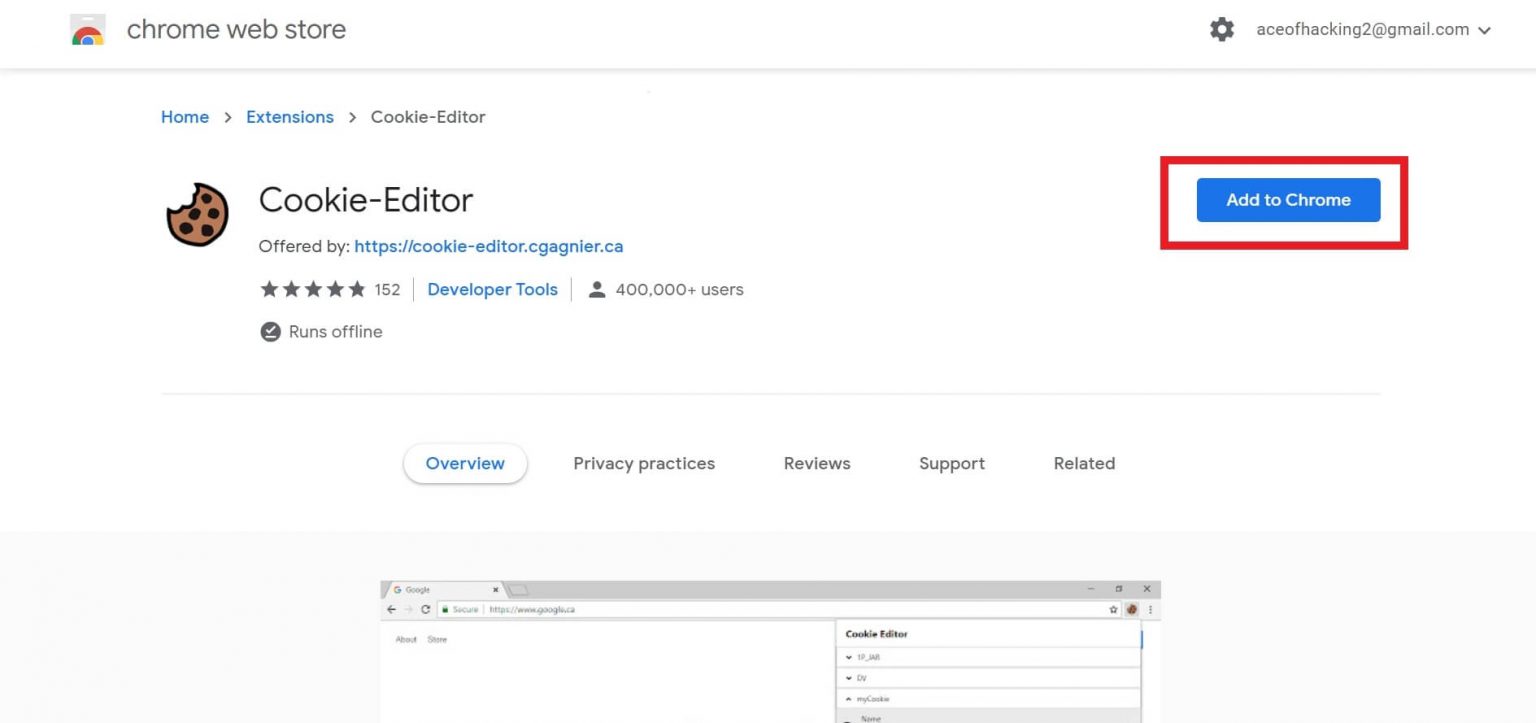 That's is it cookie editor extension installed to your browser.
In the second steps we need to insert cookies in your browser.
So now let's see how to insert cookies in your browser using cookies editor.
Now open Hotstar website by clicking here
After opening the website click on the cookie editor extension that we installed in our browser (available on the top right side of your browser).
Now click on the delete all button to delete the existing cookies and after that click on the insert button to insert working cookies that we copied in the first step.
Here paste the working cookies that we copied in the first step and click on the insert button.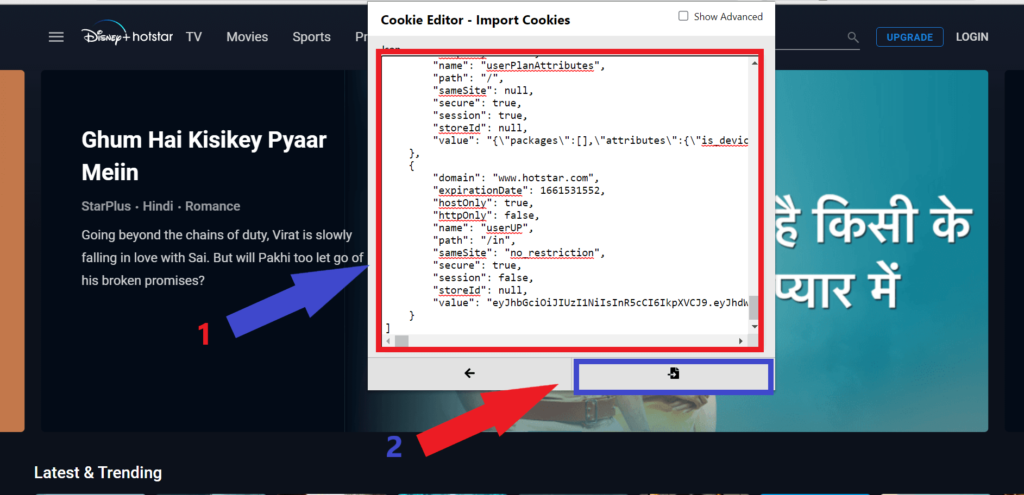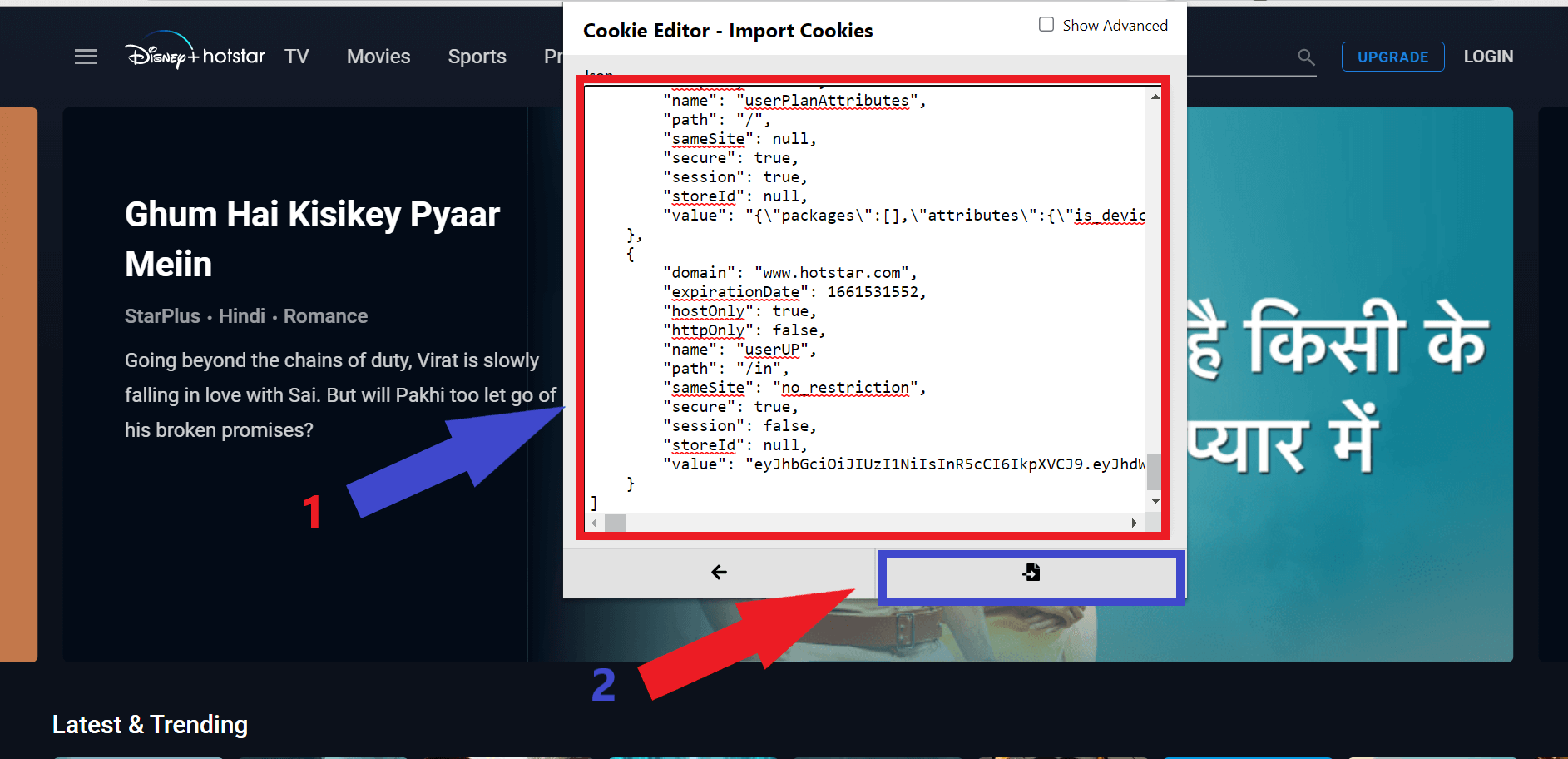 After inserting the cookies just refresh the page and boom you are logged into Hotstar premium account for free.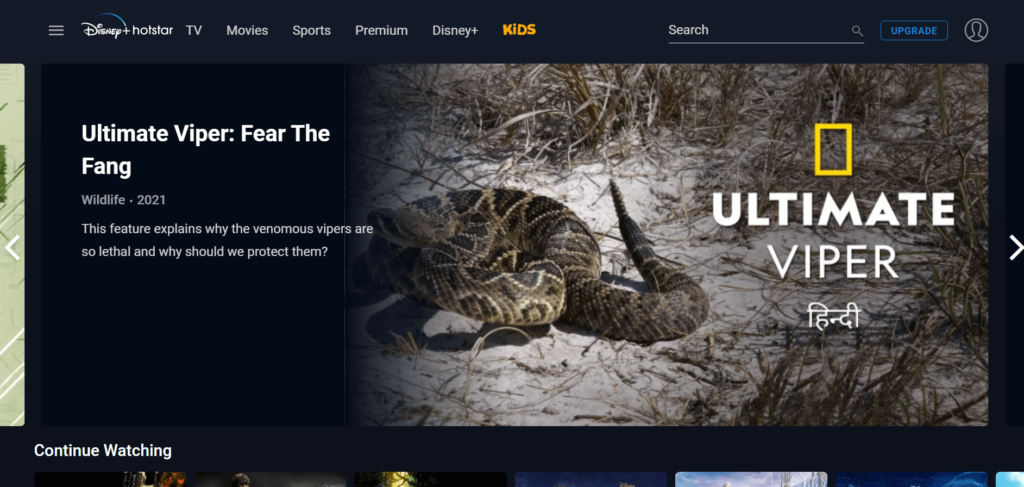 FAQ – Hotstar Cookies & Hotstar Premium Account
Here are some most common questions asked on the internet about Hotstar cookies and Premium Accounts.
How To Get Hotstar Cookies?
I know you guys are here to find Hotstar cookies how I shared those working cookies above in this article. Over the internet, you can search for Hotstar cookies with the name of the ace of hacking (eg. Hotstar cookies by ace of hacking).
Can you hack Hotstar Cookies?
No, it's not that easy to hack Hotstar premium account you should have Hotstar premium account or Hotstar cookies.
Are Hotstar cookies dangerous if copied?
No, it's not dangerous if you get it from a trusted source like Ace of Hacking also it's not 100% safe if you get it from some not trusted source. So don't do this mistake always get cookies and accounts from trusted sources.